6 Camp-Inspired Mishloach Manot for Purim
Purim is just around the corner, and you know what that means; it's time to start prepping your Mishloach Manot! This delightful Jewish custom (which is kind of like reverse trick-or-treating) is a great way to show all your neighbors and friends how much you care by gifting them the most delicious and creative Mishloach Manot this side of Shushan.  And what could be better than combining Mishloach Manot with Jewish camp? Check out some camp-inspired ideas for how you can bring a little summer fun into the month of March/Adar:
 1. S'mores-Themed Mishloach Manot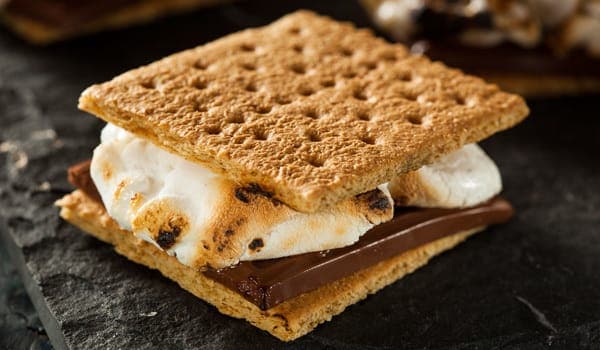 We of course have to begin by stating the obvious – s'mores and Mishloach Manot are a natural and tasty fit! This is a cute and simple gift bag that's perfect for someone on a budget.
We recommend starting with a small orange gift bag and some red and yellow tissue paper. If you leave the tissue paper sticking out of the top of the bag, it will look like fire. Want to get really creative? Try using brown sharpie or thin brown tape to make some "kindling" on the bottom of the outside of the bag.
Now let's get to the good part – the food. You have two options: either pre-make smores, wrap them in tinfoil, and leave instructions for how to cook them (preheat oven to 375, place smore in oven and let cook for about 4-5 minutes), or if you think your recipients are more of the do-it-yourself type, you can include all the pieces and let them do the assembly.
The general ratio for your s'more should be as follows –
One graham cracker (that will be broken on the perforated line)

One marshmallow

Two squares of chocolate or one fun-sized bar

Wooden skewers (you can purchase kabob skewers)
And remember, we're celebrating a huge triumph for our people, so make sure to throw in some extra chocolate – we earned it!
2. Canteen-Themed Mishloach Manot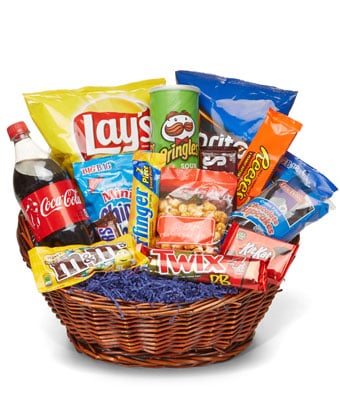 The next idea is potentially a little less creative, but cute nonetheless. Making a "canteen" themed Mishloach Manot is sure to make everyone nostalgic for the days when they had to choose between a chocolate bar and a Coke – so why not make their year and give them both in your canteen! Grab a bag and write "canteen" on it – then fill it with all the snacks you love! Good examples are Oreos, chocolate, soda, and of course, bug juice (or store bought fruit punch). Everyone appreciates a simple snack bag!
3. Lake-Themed Mishloach Manot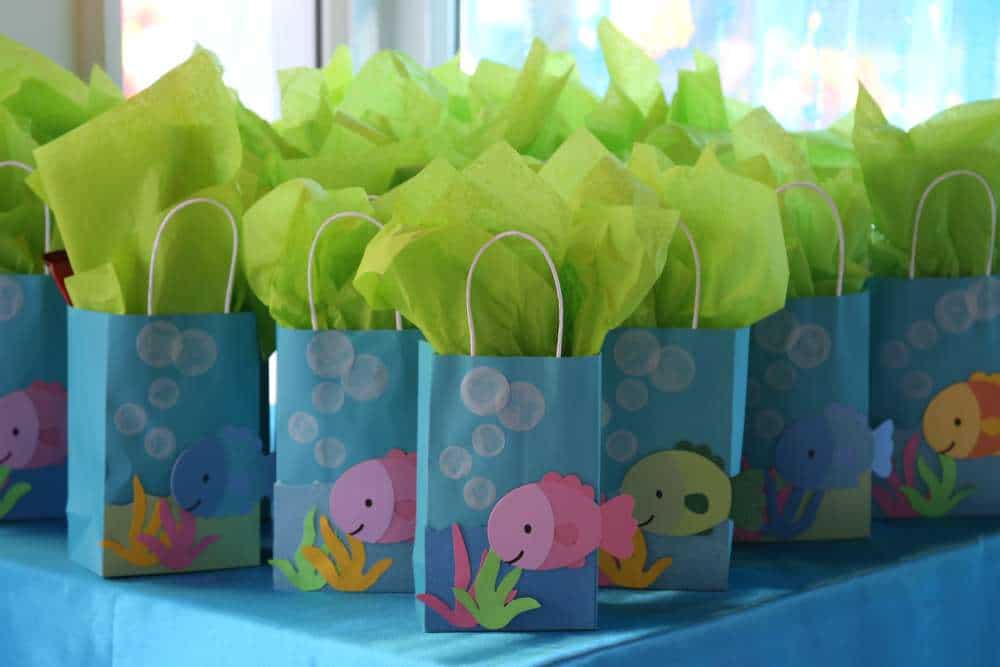 Ready to get really extra? So are we! One of the best parts about camp is basically becoming a fish after spending all summer in the lake – so why not make a lake-themed Mishloach Manot? You can be as fancy as you want with the receptacle for this goodie bag; Try a blue gift bag, or a clear mason jar wrapped on the inside with blue construction paper and some cut-out fish. People will wonder how you have time to be such an overachiever! Some ideas for what you can put inside are gummy fish and sharks, gummy worms, Twizzlers to represent pool noodles, seaweed snacks, blueberries and blue jelly beans for the color, even a can of tuna – the possibilities are endless. If you really want to impress people, you can include a sushi roll!
4. Campfire Mishloach Manot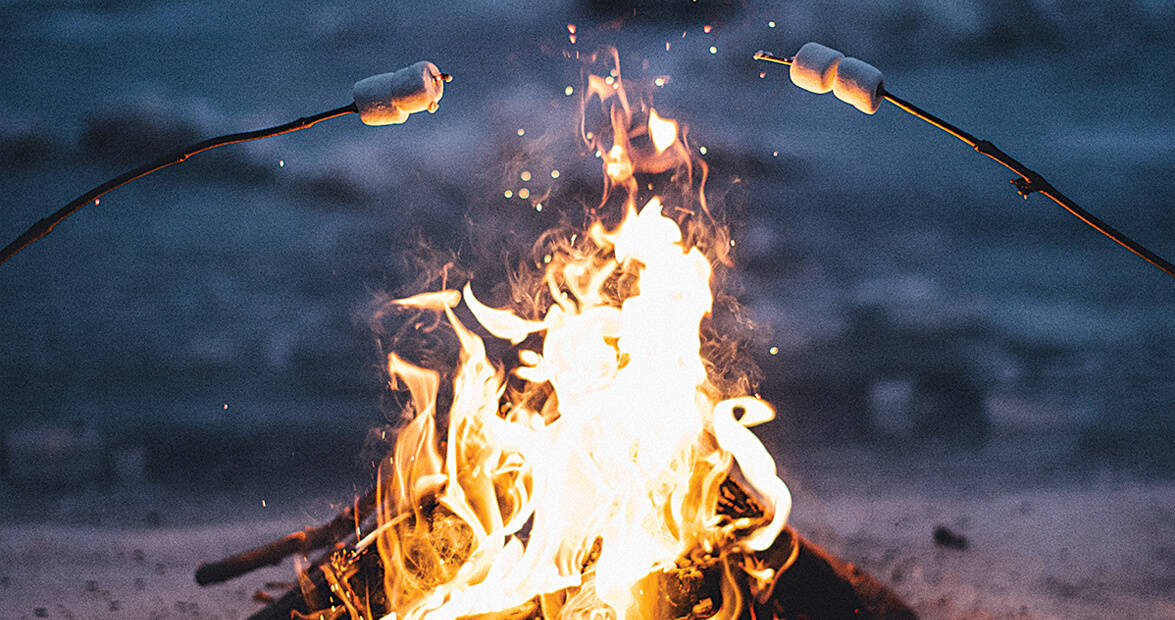 What's the one thing everyone always associates with camp? Camp fires! So many tasty goodies can be roasted on a camp fire, so why not combine them all? Go with the orange gift bag and red and yellow tissue paper as in the S'Mores Mischloach Manot, but this time get a bigger bag. Start filling it with all the things you could roast at a fire. Marshmallows, ingredients for S'mores, ingredients for Banana Boats (banana, chocolate, marshmallows), hot dogs, potatoes, peaches – you name it!
5. Gaga Court
Ready for a real challenge? What's the most Jewish game your camp plays? Is it Gaga? We thought so! For the person in your life who goes gaga for Gaga, get your hands on an octagon-shaped basket or box. Fill the bottom with some fun sized brown chocolates (like Hershey's or M&Ms) to represent the ground, then pick a delicious round food – maybe an orange, maybe a Lindt Truffle – to represent the ball! NOTE: eating the ball mid-game is an automatic "out", but when it comes to Gaga Court Mishloach Manot, it may be worth it!
6. Contraband Bag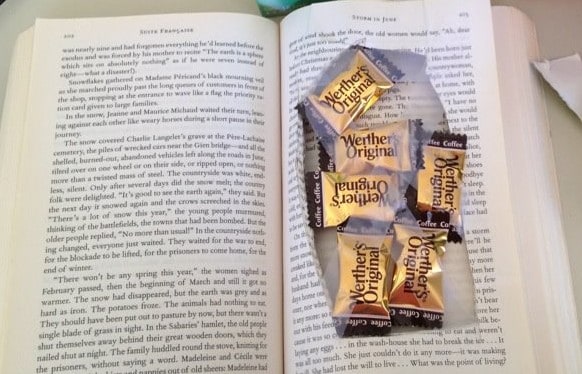 Shhhh… we won't tell if you won't! Our personal favorite, if you're up for the challenge, is the Camp Contraband Mishloach Manot. When you went to camp, how did you used to hide all the snacks you wanted to hoard? Rolled up in socks? A tampon box? A secret compartment? Whatever it was, let that be your inspiration. You can stuff this gift bag with gum, snacks, and all the hoarded candy you can think of! It will certainly get a laugh from anyone who has gone to camp.
A great campy addition to any of these Mishloach Manot would be to include some non-food related camp things. What rainy day activities did you do at camp? Think decks of cards, coloring books, and Jenga. You can also add some of your favorite camp arts and crafts activities like string for friendship bracelets or tie dye supplies.
Don't limit your camp-themed Mishloach Manot to just our ideas. Think you could incorporate your favorite memory of camp into a Mishloach Manot? Go for it and then post a picture letting us know how you did it!