A Summer Reflection 
By Melanie Weintraub,  Cornerstone 2017 Fellow, Camp Judaea
Greetings, I am Melanie Weintraub, one of Camp Judaea's 2017 Cornerstone fellows! Cornerstone is a fellowship for third-year madrichim (counselors) and camp leaders who are empowered to bring new skills, ideas, and innovations that will make a positive impact to strengthen their camp community.
Each summer before the camp season kicks off, the Cornerstone Fellows from more than 60 Jewish camps gather to exchange ideas, learn from Jewish camping experts, and prepare for their summer at camp. The five-day seminar was a camp madricha's dream: experts in the field of camping, beautiful mountains, and camp madrichim from across the United States and Canada all coming together to talk about the best place on Earth, camp!
This experience was unique in that the camps represented at this conference all do things differently. Fellows could learn new ideas, understand different approaches, and be able to adapt programs from other camps for their specific camp they are representing. During this conference, each fellow chose a track. The chosen tracks allowed fellows to spend a few hours every day learning, participating, and communicating about an aspect of camp that is important and meaningful to them.
I chose the t'fillot (Jewish prayer) track. I learned how camps with diverse religious affiliations make prayer an integral part of the camp experience. I loved learning about how to enhance and integrate prayer in both alternative and traditional ways so that all chanichim (campers) could participate and enjoy.
My favorite activity I participated in was called "The Happy Lab." This activity consisted of different stations that sparked our five senses: crazy instruments, meditation, 26blessing writing, a laughing session, and tangible objects. Before going to each station, I ranked my current happiness on a scale of one to ten. After each station, I wrote down how much these sensory activities increased my happiness. This program was entertaining, interesting, and influential, in that it demonstrated how such simple activities could make someone smile and laugh so much. I left the Cornerstone seminar so excited and inspired to bring programs like my beloved Happy Lab to Camp Judaea and share it with the chanichim and other madrichim.
Beyond my chosen t'fillot track, I attended presentations surrounding the ideas of confidence and body image, specifically relating to Judaism. Based on what I learned at the conference, I came to camp and was able to give chanichim a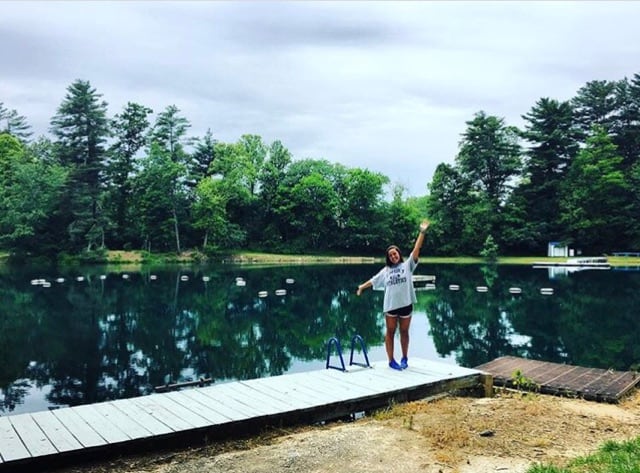 program that not only touched on this confidence, but also allowed the chanichim to figure out what exactly makes them confident specifically at camp that could benefit them in their lives as a whole. This program allowed chanichim to trace their bodies and point out which body parts allowed them to excel during a day at camp. Examples chanichim shared: pointing out that their legs helped them climb the tower, their arms allowed them to swim fast, and their hands helped them make creative artwork.
Looking back at this summer, I realize how much being a Cornerstone Fellow impacted my ability to lead other staff members and enhanced my ability to write and was able to provide unique activities that directly correlated with events at camp. I can say confidently that I not only grew as a staff member because of Cornerstone, but as a person. I am excited for other staff members to have this opportunity!
This piece was adapted from the original post A Summer Reflection From One Of Our 2017 Cornerstone Fellows, on Camp Judaea's Blog.