How to be a Great 1st Year Staff Member
As someone who has spent the last ten years working at a camp, it is safe to say that I love the whole summer camp thing.  But, my first summer as a staff member was definitely a growth experience for me; I learned a lot of important lessons that summer.
Looking back  years later, this is the advice that I would give myself that first summer and that I give to all new staff members that I supervise:
1. Understand how Important Your Role at Camp is.  If you went to camp yourself you will know how important your counselors were to you. Summer after summer, your counselors were your big bro/sis, your role models, and mentors. Now it's your time to shine! You get to be a  Jewish role model for all of your campers. You are going to change lives whether you mean to or not. Have fun, be silly but also remember there are campers of all ages looking up to you and wanting to learn from you
2. Remember, It's Camp.  At camp a lot happens throughout the day (each hour is a day, each day is a week…) you're on the clock 24-7 and if you're looking for a pick-me-up but coffee is only served at breakfast, remember… you have the BEST JOB IN THE WORLD!  The number one priority is keeping your campers safe and the second is to make sure that everyone is having fun. Your job is to play sports and games, eat meals, go biking or hiking, rock climbing or zip-lining, where else in the world will you ever get an opportunity like that? Also don't forget to take care of yourself, so you can be at your 100%.
3. You're not alone.  This piece of advice can be a double edged sword. Campers are always watching you to see what you're doing so you should be on your best behavior even when you don't think that anyone is watching (like that yawn you accidentally let out during one of your camper's stories). At the same time, always having someone else around can be a big help. Talk to the other counselors, talk to your supervisor, talk to a professional staff member. There will always be someone there to support you.  Your job is to take care of your campers, and their jobs are to take care of you!
4. HAVE FUN.  In case it isn't already clear, enjoy yourself! Make sure that it is safe and appropriate, but otherwise, have as much fun as you can. Every activity at camp is an opportunity for a new and creative way to have fun. Did you know you can turn bunk cleaning into a fun game? Or even a simple walk around camp a fun exciting opportunity that your campers will never forget? The possibilities of having fun at camp are endless, so get creative, do your job and have fun!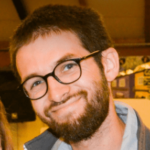 Beryl Trauth-Jurman has been in-charge of the CIT (Gesher) program at URJ Camp Harlam for the past few summers. Before that Beryl was a cabin-counselor, assistant supervisor and supervisor at Harlam. He recently received his Masters in Conflict Resolution from George Mason University. Beryl now works for the District of Columbia where he spends his days working with children and families.