Inclusion at Camp is Magical
Inclusion at Camp is Magical
By Chloe Connett

People sometimes wonder what it is like to work at a Jewish summer camp in the United States. Summer after Summer, I would watch my twin sister leave the UK to travel to Camp Chi in Wisconsin, but I had no idea what it was really like.
She loved her experiences, but working at camp never seemed of interest to me. I was happy in my job as a special needs teaching assistant. Then on 30 April 2017 that all changed. My sister was working at a Camp Leaders fair, and I went to keep her company. Little did I know, just a month later I would be quitting my job, packing my bags and on a plane to Chicago with her.
This video was the reason I changed my mind!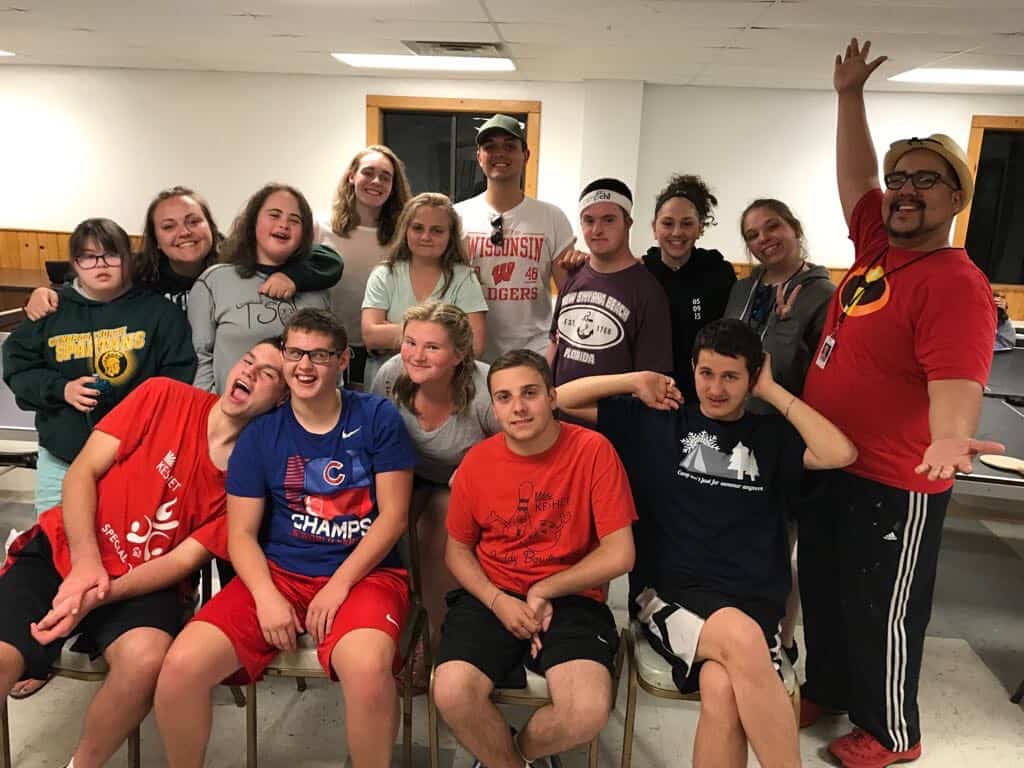 From just 2 minutes and 16 seconds worth of this video, I felt not only the Camp Chi and Keshet magic but also just how amazing it would be to be part of a proper inclusion program! In the UK, children with disabilities are very segregated to the rest of society, and I wanted to be a part of a true inclusion program.
Camp Chi and Keshet are focused on including campers with special needs into the full Jewish overnight camp experience. Keshet hires exceptional staff to work as 1:1 aides with the campers and help make the transition from school life to camp life as smooth as possible.
Keshet and Camp Chi work hand-in-hand and are massively skilled in adapting activities to suit any need. I've never been somewhere where the incredible counsellors and specialists will go above and beyond to make sure campers get to do exactly what they want and have what they need.
Be it going up the ropes course, riding a horse or enjoying free time. Even spending time in the radio shack or cooking shakshuka in the outdoor cooking area. Campers with disabilities can participate in all parts of life at Camp Chi.
Since getting home I've been asked why the inclusion program is amazing.
Well, it's amazing because campers with disabilities get to spend all day with other campers their own age doing what everyone else is doing. They share the same cabins, they eat together, swim together, do activities together. Just like typical campers, they find their second home and are able to have this family and this love like everyone else. And just like other campers, Chi campers with disabilities are able to find their forever friends.
I formed lasting relationships with my campers and I would honestly do anything for them. I remember lying on the floor holding a camper's hand whilst a horrific thunder storm happened as she was scared. I remember being awoken at 3:00 in the morning due to campers being homesick or having bad dreams. I was being impacted by these campers and wanted to make their summer as amazing as they made mine.
Since the end of camp, the love and friendship I have with these campers has not faded. I have kept in touch with them and their parents via social media and email. The fact we still keep in touch and that my campers and I have a genuine connection still shows me that I did the best job I could.
My summer of 2017 was beyond incredible, words really cannot be put together to say how amazing it was! I'm proud to be part of an inclusive community at camp.
I'm counting down the days until I will be back at Camp Chi with Keshet for 2018.
Chloe lives in Liverpool, England where she is a teaching assistant at a school for children with social emotional and mental health challenges. This summer she will be an inclusion supervisor with Keshet at Camp Chi.