Inclusion from Camp Ramah to Israel
Inclusion from Camp Ramah to Israel
By Howard Blas, Director, National Ramah Tikvah Network
The Ramah Camping Movement is gearing up to celebrate our 50th summer (in 2019) of Tikvah, offering inclusive, overnight camping to children and young adults with disabilities. What a long way Ramah, the Foundation for Jewish Camp, and Jewish camping have come since Tikvah opened its doors in 1970.
Jeremy Fingerman, Chief Executive Officer of Foundation for Jewish Camp, is proud of the growth of inclusive camping—in terms of numbers of campers served, training of staff, and funding. He reports,
"Since 2013, we have increased the number of camps serving kids with disabilities to 43% of our network (68 camps), more than doubled the number of campers with disabilities to over 5,000 participants, professionalized the camper care provided by staff through the creation of new inclusion coordinator positions and our community of practice; helped camps adapt facilities and programming for the benefit of all campers; and raised the awareness, profile, and importance of addressing the needs of this undeserved segment. I have been inspired by our progress to date, and look forward to creating more camp environments where everyone feels supported, enabled, and included — regardless of ability."
Perhaps the greatest contribution inclusive camping has made these past 50 years is in showing what is possible for people with disabilities and for the entire Jewish community.
At our nine Ramah overnight camps (and various day camps), campers with disabilities spend the summer the same way thousands of neurotypical Jewish children do — away from home, in bunks, with supportive counselors, swimming, participating in sports, dance, singing, arts and crafts, camp wide events, putting on plays (in Hebrew!), praying, shouting and banging on tables to the birkat hamazon in the chadar ochel, and going on camping trips. Campers with disabilities also lead the camp in Friday night services and read Torah, hold important jobs in camp (bakery, guest house, supply room, dining room, etc.) and form special friendships with campers, staff members, and the Israeli mishlachat (delegation).
Neurotypical campers and staff members learn that we all have similarities and differences, strengths and weaknesses, special talents, and complex behaviors; we are all created b'tzelem Elohim, in God's Image. Tikvah at Ramah is as natural and integral to Jewish summer camping as Shabbat, campfires and color war. For that reason, after nearly 25 years of working with Tikvah at Ramah, I sometimes forget how extraordinary it is that campers with disabilities are seamlessly included in Jewish camping.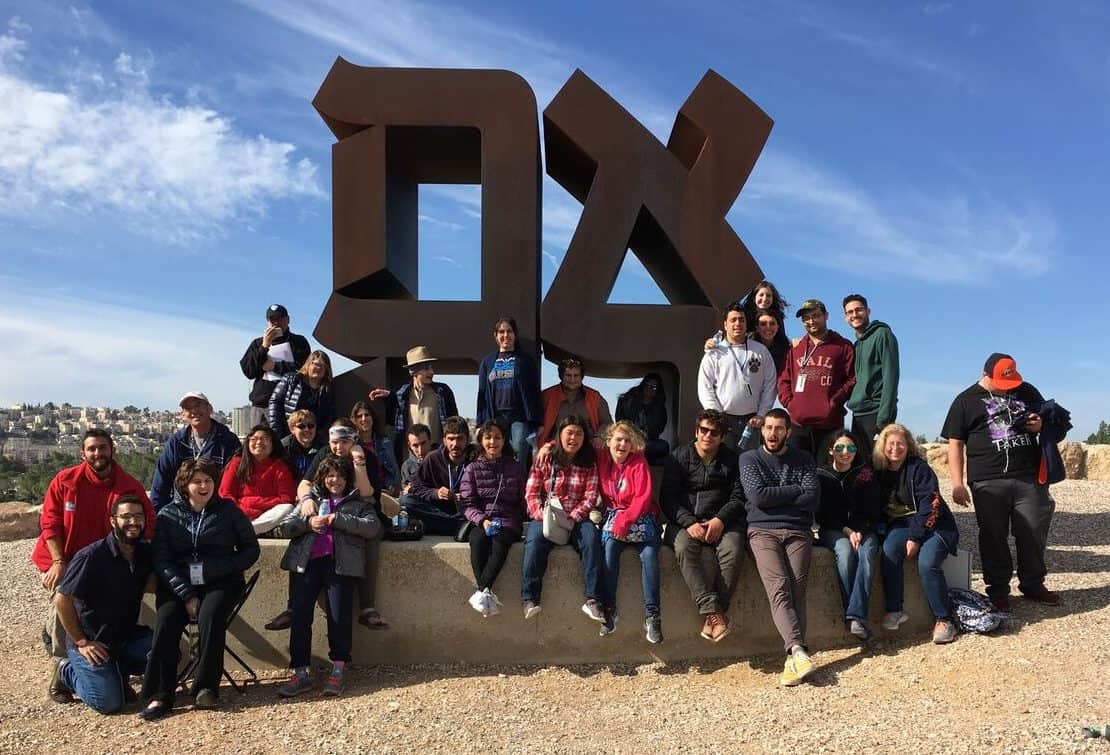 When I step back from camp during the "off season," I realize what a big deal it is to have people with disabilities participating so fully in a Jewish community. Families have not always felt adequately included in their home communities. Fortunately, and partially due to the success of inclusive Jewish camping, families of children with disabilities continue to experience improvements in this area.
I am privileged to be in touch with Tikvah campers and their families in the "off season" and I see how their connection to camp and Jewish life continues year round. Some participate in weekly meetings with friends and counselors through "Shabbbos is Calling" or "Shavua Tov" video conferences. In addition, parents tell me how many Hebrew words and phrases their children use at home, how they spontaneously break out in to Hebrew song and prayer, and how connected they are to Jewish ritual — and Israel.
One particular "off season" highlight has been the opportunity to lead groups of Tikvah campers on winter trips to Israel. On a recent 10- day Birthright Israel: Amazing Israel — Ramah Tikvah trip, 21 participants and six staff members representing five Ramah Tikvah Programs truly experienced Israel.
While it was the first Israel trip for most participants, these places seemed familiar and they seemed to already have a deep connection. All the years of Jewish summer camp activities and programming about Israel, and relationships with mishlachat members had served as wonderful preparation for the Israel trip. Group members connected to people and places in meaningful ways. What was striking is just how much the trip was a reflection of their Jewish summer camp experience. The same mishlachat members they know from Ramah camps have been teaching them for years how to make chumus and bake pita on a taboon (outdoor oven). Unlike with many Birthright groups, this experience was not new when they baked pita at the mishnaic village of Kfar Kedem.
Of course visits to the Kotel and Masada were similarly familiar — they have learned about these special places at camp! Participants looked forward to daily tefillot and birkat hamazon, and they made friends. On past Tikvah Israel trips, participants enjoyed eating dinner and hanging out with mishlachat member friends in their homes—from Gedera to Beit Shemesh to Jerusalem to a kibbutz overlooking the Kinneret. This ability to connect with the places and people of Israel is a tremendous tribute to inclusive camping.
The more we include people in Jewish camping, the more we create lifelong connections to Jewish experiences, Israel and Jewish People. May the next 50 years continue to see growth in naturally inclusive Jewish camping and in meaningful inclusive experiences throughout the Jewish World!