There Was Nothing to See—What Inclusion Looks Like
There Was Nothing to See—What Inclusion Looks Like
By Dr. Miriam Heyman, a Program Officer at the Ruderman Family Foundation
We talk a lot about how much work still needs to be done before we become a truly inclusive society.  And we are correct to have these conversations – appalling levels of exclusion still permeate every sector of society.  It is also important to recognize and celebrate our successes in becoming more inclusive.  By calling out the positive (in addition to the negative), we articulate a clear vision of what inclusion can and should look like.  This vision will guide us as we continue the fight to include people with disabilities alongside people without disabilities in all places, from daycare centers for infants and young children, to c-suites for business executives.
This blog is in honor of the people and programs that are doing great things to be fully welcoming and inclusive.  Over the past few months I have had the pleasure of visiting several of these people and places.  I also hope that the ideals embodied by these success stories will help to guide our future work.
This summer I spent time with several of our program partners and friends – Camp Ramah, Adaptive Sports of New England, the Boys and Girls Club of Dorchester and Boston, the Jewish Community Center of the North Shore, and Camp Yavneh, to name a few.  I toured facilities and participated in athletic, recreational, and educational programming.  After many of these visits, I came back to my office and told my colleagues, "There was really nothing to see." I meant that as the biggest possible compliment.
Why was there nothing to see?  Because these organizations seamlessly included people with and without disabilities in all aspects of their programming.  Staff and participants with and without disabilities all participated in diverse activities, and it was impossible to identify who had a disability and who did not—there was no segregation.  I visited swimming pools, lakes, cafeterias, cabins, a sports museum, a racing event, and more.
My hosts at each location described the supports that staff and participants receive to help them address medical needs, challenging behaviors, and physical disabilities.  It was very clear that expertise, creativity, dedication, and professionalism were key factors in the success of these supports. And of course, if I looked closely, there were things to see – behavior plans, epi pens, and camp cabins with accessible showers.  There were also support staff, but these talented individuals did not work exclusively with the children with disabilities.  Rather, they helped out wherever it was needed, with children with disabilities, and with children without identified disabilities who clearly needed extra support.  Most importantly, it did not feel like I was visiting "inclusion programs".  Rather, it felt like visiting camps and schools where kids and adults with and without disabilities learned and played together.
Camps in particular have the unique opportunity to foster social inclusion – people with and without disabilities relaxing, playing, and acquiring new hobbies and interests.  This is especially important for children who feel isolated during the school year, in classrooms where their learning differences might feel strikingly apparent.  The staff at Ramah, Yavneh and many other camps have embraced this opportunity, and this is part of what drives them to ensure that the programming is truly inclusive – so that there is, in fact, nothing to see. While visiting Ramah and Yavneh this summer, I observed kids playing together on launch pads in the lake, in ceramic studios, and on gaga courts.
This, in essence, is what inclusion can and should look like.  Inclusion should not be restricted to an isolated program within an organization.  Nor should it be contained within a single office or wing of a building.  It should spread across all components of programming and beyond – so that organizations offer not only inclusive activities, but also accessible web sites, buildings, hiring practices, and more. Our society has a long way to go before it embodies this vision of inclusion.  I am thankful that there are programs out there who embrace it, and who bring it to life.  They are a guide for us all.
This piece was adapted from the original post There Was Nothing to See—What Inclusion Looks Like, on The Ruderman Blog.
---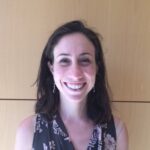 Miriam is responsible for the oversight of programs related to disability inclusion at the Ruderman Family Foundation. She began her career as a Special Education Teacher in the New York City public schools, and while teaching she earned a Master's degree in Special Education from the City University of New York. Miriam received a Ph.D. in Applied Developmental and Educational Psychology from Boston College, where she focused her studies on individuals with developmental disabilities and their families.