We See the Change for the Better
We See the Change for the Better
By Miriam Guiney, Camp Director
At Camp Kayetz in Aptos, CA, we offer a  program of sports, arts & crafts, field trips, music & dance, etc., all with a Jewish framework. We are a typical day camp; in our four weeks together we share many transformative experiences. Year after year, the highlight of the summer for many campers is a 3-day, 2-night camping trip at Henry Cowell Redwoods State Park in the Santa Cruz Mountains.
Camp Kayetz has returned to Henry Cowell for 8 years now. Our first year, we were surprised to find our campgrounds surrounded by a wall of non-native, intrusive thistles, some over 6 feet tall. Henry Cowell has many other invasive plants, including burdock, vinca (periwinkle), forget-me-not, and broom. These plants spread throughout the forest, choke native plants, and provide neither food nor shelter for the animals in this ecosystem.
Since that first year, we chose to spend a few of hours of our hike digging out these troublesome invaders. Armed with gardening gloves, shovels, and other tools, we uprooted the plants wherever the park's Resource Ecologist determines it is most needed. While it doesn't sound like much, 50-75 people can get a lot of work done in 2 hours.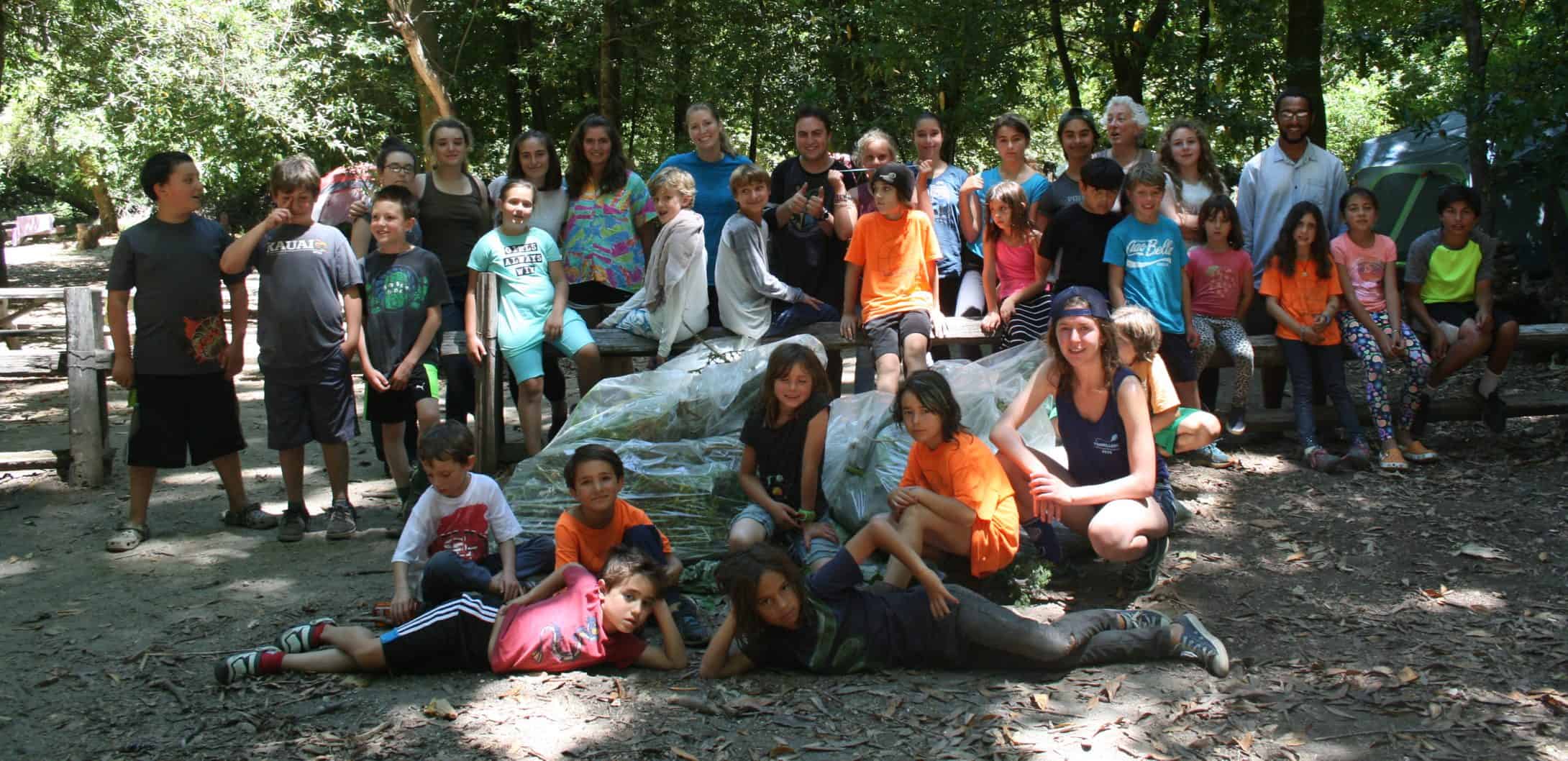 Rabbi Tarfon taught in Pirke Avot: "It is not your responsibility to complete the work, but you are responsible to get it started." We know we can't get every plant, and as we walk back to camp for lunch we always see a few we missed, but we know we've done a lot. We see the piles of heavy-duty trash bags filled with discarded non-native plants and watch it get hauled away by the truckload. Our camping area is now completely free of thistle. The Ecologist assures us that she sees a huge difference in the area, with visible improvement each year.
Each year, we have a different theme for camp. This year's was Get Up, Stand Up (…don't give up the fight!). Our resource project showed us that even if we can't weed out every plant, over time, we see the change for the better. My favorite moments working on the trail with the kids occurred when hikers came by and thanked them for their work; they smiled with pride.
At the end of our session we present a performance for parents and families, including an original short play. This year's play, Harry Potter and the Pirates of Star Wars, featured Elizabeth Swanstein persuading Jack Sparrow to help her clean up the local beach and restore its beauty. At the same time, some local wizards were concerned about funding cuts to their Defense Against the Dark Arts classes. Meanwhile, Luke Skyberg needs to learn to live with Dark Siders… and of course in the end, they all get together to help each other and the beach is fully restored!
This wonderful, positive group of campers became activists this summer. They left camp holding on to their ideals and the knowledge that they truly can make a difference.