Shabbat Traditions at Camp Daisy and Harry Stein
Shabbat Traditions at Camp Daisy and Harry Stein
Shabbat has always been a very special and meaningful time for the Camp Daisy and Harry Stein community. As Friday afternoon starts to wind down, you can feel a different sense of excitement and peacefulness as Shabbat is about to enter. Not only is it a time where our entire camp family comes together, our schedule changes, mealtime is different and everyone feels differently from sundown Friday to sundown Saturday. Shabbat at Camp Stein is truly magical.
Through our participation in the Hiddur Initiative, we have found ways to enhance our Shabbat experience and make it even more meaningful and enjoyable. One new tradition that began in our first year participating in Hiddur was creating a time period in the early afternoon on Friday that we now call "Hiddur Shabbat." Units are assigned to a different component of the Kabbalat Shabbat experience during this 60 minute time period.
Each unit owns a different component of Hiddur Shabbat each week on a rotational basis. Units have the opportunity to: decorate the Chadar Ohel (Dining Hall) with Shabbat themed decorations, compose and sing a song during our Shabbat Circle prior to dinner, write a blessing for the entire camp community to be recited during the regular Shabbat dinner blessings, write "Shabbat-o-grams" for other campers and staff expressing a Shabbat Shalom, and design Challah covers for Shabbat dinner. With this new tradition, every camper and staff member can now say they have played a part in enhancing the Camp Stein Shabbat experience (every week)!
Another longstanding and special tradition occurring on every Camp Stein Shabbat is the "Saturday Torah Live" puppet show performed at Shabbat morning services. Each week, staff members put on an entertaining and educational puppet show about the week's Parsha (torah portion). Using silly accents, over-the-top reactions and funny jokes, everyone always loves "Saturday Torah Live!"
We all know that most campers count down the days until camp starts, but at Camp Stein each week, most campers countdown until Shabbat starts. Through a combination of old and new traditions, Shabbat will always be special for the Camp Stein community!
Brian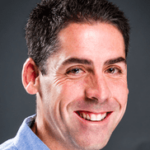 is Director of Camp Daisy and Harry Stein and has been since February 2013. He grew up as a camper and counselor growing up at Camp Sabra in the Lake of the Ozarks. A graduate of the University of Indiana at Bloomington, he has spent the majority of my adult life as a Jewish professional. Prior to becoming the Director of Camp Stein, he was the Director of the University of Missouri Hillel at Columbia. Brian also spent five years (2006-2011) as the full time Senior Assistant Director of the Union for Reform Judaism's (URJ) Crane Lake Camp in West Stockbridge, MA.