Summer Lovin-Valentine's Day Edition- Ahuva & Rachel
Rabbi Ahuva Zaches & Rachel Wolman
URJ Camp Newman
When/how/where at camp did you meet?
We met at URJ Camp Newman during senior staff week. Rachel was the head songleader and Ahuva was a unit head. We both had mutual friends and had heard about one another before but had never met. Ahuva likes to say she first started having a crush on Rachel during the third day of that staff week while Rachel was leading the staff in Modeh Ani.
Was it love right away?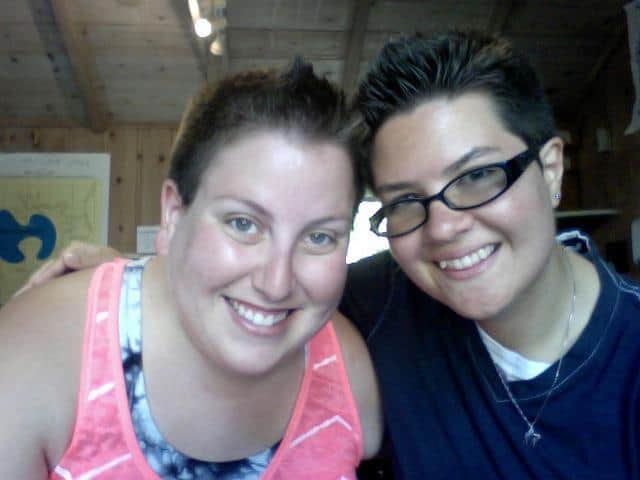 No it took about a week. To some people that might be right away but in camp time that's probably about a month.
Do you find that your time at camp has influenced your relationship/marriage/family?
Yes 100%. When we met that summer Rachel had gotten sick at camp. even though it was unfortunate, it was great for our relationship because we were able to get to know each other very quickly.
Camp can bring out the truth in people. You don't have anywhere to hide. This really can speed up a relationship. Since we never traditionally dated and basically started living together, it put our relationship about a year ahead of itself.
What happened between you when camp ended that summer?
Following the summer, Ahuva was about to begin her fourth year in Rabbinical school in Los Angeles and Rachel had just gotten a brand new youth director position in Northern Virginia. Our plan originally was to not do long distance. That plan changed within a month when we realized we couldn't imagine our lives without each other in them. We did long distance for a year back and forth between LA and VA. Rachel eventually moved to LA during Ahuva's last year of school. We then moved back to the East Coast when Ahuva got a job in Richmond, VA.
Did you have any camp themed thing at your wedding?
The biggest thing that was campy is we wanted to have our instruments in our wedding pictures. We both play the guitar and Rachel plays the ukulele.
Will you send your kids to camp?
Without a doubt. Jewish Camp is the most important thing to us. It has  has not only given us each other, but has given us everything in have in life. We're forever grateful that camp brought us together and if we have kids they will 100% go to camp.