Summer Lovin' – Jess & Andrew (Toes)
Jess & Andrew (Toes)
Camp Chi

When/how/where at camp did you meet?
We met at Camp Chi in the summer of 2015. Jess remembers seeing Andrew (Toes) for the very first time. Jess had arrived late to camp and was being given a tour by another staff member. Toes was pulling anchors in at the Cove (beach), and we were the only people around because everyone else was at lunch!
Was it love right away?
Yes and no. The minute we met, Jess remembers being absolutely blown away by Toes' goofy personality.
That summer, Jess was the camp photographer and used to walk around camp a lot so we would run into each other often. However, our love didn't really start until Toes started to leave sweet notes on Jess' desk in the office. She knew he could make her laugh, but it wasn't until the notes started that she knew he could make her fall in love!
What happened between you when camp ended that summer?
After camp, Jess went back to her hometown in Pennsylvania while Toes went to travel around the country. During his travels, Toes came to stay with Jess. After that, he went back to England and we thought about trying to stay together but weren't totally sure if we could.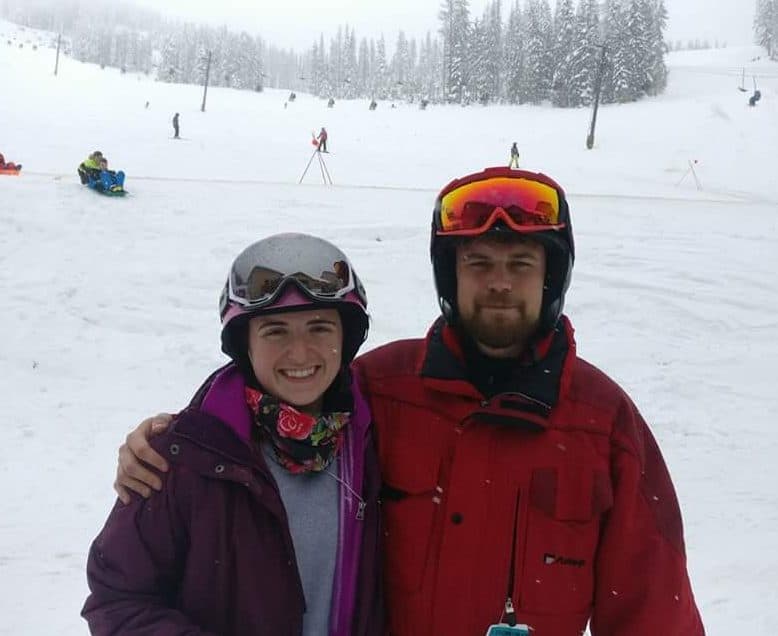 After about 30 days apart, Toes bought a ticket to the US and came to visit. We just hated being apart! After that month, Toes went back to England again. About 30 days later, Jess bought a ticket to the place in France where Toes was working and went to live with him for 3 months. She never looked back!
Did you have any camp themed things at your wedding?
We didn't have any camp themed things at our wedding, but we did have three of our best friends whom we met at camp at/in our wedding!
Do you find that your time at camp has influenced your relationship/marriage/family?
Since our relationship started at camp – in a high stress, exhausting, and time-consuming environment – it set us up for the best marriage. We know how to work through exhausting, tiring times and we know we could survive in a cabin and on Subway meals together if we had to!
Will you send your kids to camp?
Yes, we plan on it!  Some of our best memories from camp, both as children and as adults. We for sure want the same thing for our kids one day!