Summer Lovin' – Laura & Mike
Laura & Mike
URJ Olin-Sang-Ruby Union Institute
When/how/where at camp did you meet?
We met at OSRUI on the Mosh hill during one of the first evening programs of Mosh Bet in July 1995. Laura's va'ad was leading that evening program, and Mike was in the group she was working with. We became good friends and spent most of that summer together after that, and Mike officially "asked Laura out" when there were four nights left of camp.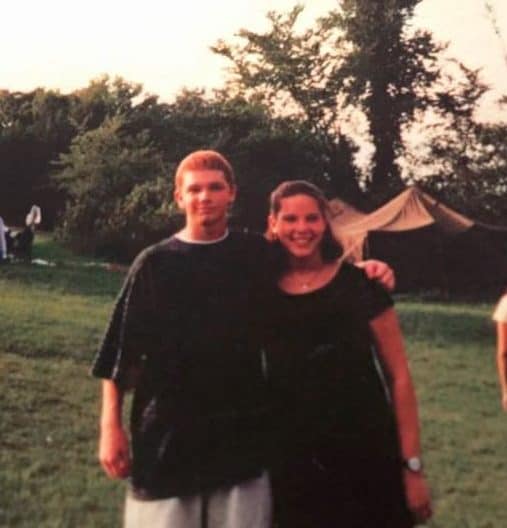 Was it love right away?
No. It was definitely "crush" right away, but not love right away… we were only 14 at the time!
What happened between you when camp ended that summer?
Since we lived so far away from each other (a 20-minute drive seemed really far since we couldn't drive yet), we decided to break up and stay friends. We exchanged contact information and agreed to talk often. We were true to our promise and maintained our friendship over the phone for about 2 months, until we decided to be boyfriend and girlfriend again. Our parents were nice enough to drive us to see each other periodically, and we went to homecoming together that fall. Aside from one or two 1-day breakups in high school and college, we've been together ever since.
Did you have any camp themed things at your wedding?
We didn't do anything specifically camp themed at our wedding, but it was a Jewish wedding with many camp friends!
Do you find that your time at camp has influenced your relationship/marriage/family?
Absolutely! We shared 4 summers together at camp (including the summer we met), and it definitely influenced our relationship, our eventual marriage, our Jewish identities and values, and how we raise our kids.
Will you send your kids to camp?
We already do! Our son has been to OSRUI for five summers, and our daughter will be heading to OSRUI for her third summer this year!