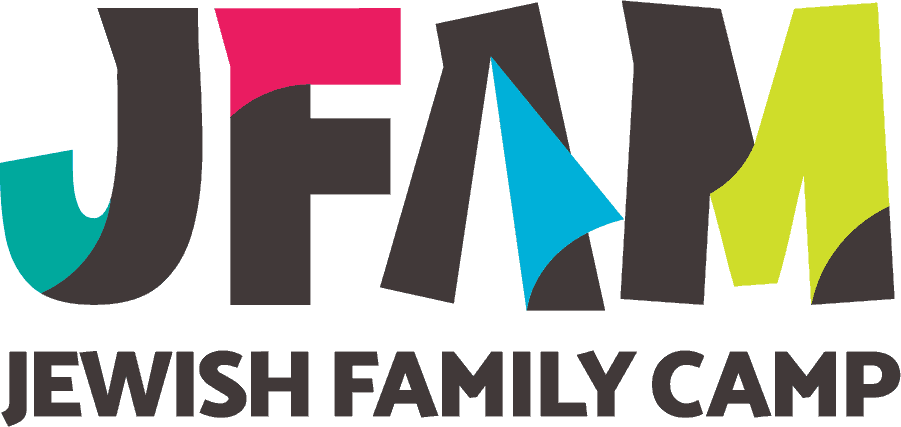 What is JFAM? 
A JFAM family camp weekend is a chance to be together as a family, enjoy activities planned just for you, and meet new friends with similar values.  JFAM family camps specialize in helping families relax, have fun, and spend quality family time together while building community, making new friends, and engaging with and learning about Jewish rituals and customs over Shabbat or holidays.   
JFAM family camps believe every Jewish family belongs at family camp and seeks to warmly welcome all family structures, families with members who do not identify as Jewish, families of all races, ethnicities, sexual orientations, gender identities, and families with children and/or adults with disabilities.  
Why is JFAM right for your family?
JFAM family camps are here to help today's busy young families create sacred time and space to make friends, enjoy family time, and experience how Judaism's ancient traditions can add meaning and value in today's world. By providing a weekend (or a couple of days) where experienced camp staff provides the food, the fun, the activities, and the friends, your family can come, relax, and recharge. Surrounded by a beautiful outdoor setting, your family will be inspired, have time to reflect on parenting with peers, and leave thinking about the possibilities for meaningful rituals and connections for your family in the future.   
Who
 are the JFAM 
c
amps?
Seven Jewish overnight camps across North America were selected to participate in the inaugural cohort of JFAM, Foundation for Jewish Camp's (FJC) new Jewish Family Camp initiative. These camps see year-round Jewish engagement and outreach to families as core to their mission of helping families feel a sense of belonging in the Jewish community and a connection to meaningful expressions of family rituals and traditions.  
About Foundation for Jewish Camp
Foundation for Jewish Camp (FJC) fosters excellence and accelerates innovation at Jewish camps across North America by developing adaptive talent, deepening immersive learning experiences, and catalyzing field growth. Founded in 1998, FJC elevates Jewish camp on the cultural and philanthropic agenda, creating opportunities to engage even more young people in Jewish camp through groundbreaking programs such as One Happy Camper® and FJC's Specialty Camps Incubator.  FJC advocates for over 300 day and overnight camps that provide nearly 180,000 campers and young staff each summer with a meaningful, personal, and lifelong connection to Judaism. FJC is a public 501(c)(3) charitable organization. For more information, please visit: www.jewishcamp.org.