Camp Census
Data is uniquely important to building the field of Jewish camp. This Census collects data that is aggregated, analyzed, and shared back through reports that identify trends and learnings and give us better leverage to advocate for the field.
CENSUS FINDINGS
We feel a renewed sense of focus, vigor, and energy from Jewish day and overnight camps across North America. In Summer 2022, overall enrollment grew to within a few percentage points of pre-pandemic record levels (96% of 2019) and early reports show strong demand for Summer 2023. We salute the hard work and creativity of camp professionals who have managed through the pandemic as well as facing new and continuing challenges moving forward. These include seasonal staff recruitment and retention, rapidly increasing costs, more requests for financial aid, professional transitions, and demand for mental health support for campers and staff alike. Overall, we sense an optimism about the future of Jewish camp and remain inspired by our vital work, to enable as many as possible to benefit from joyful Judaism experienced at summer camp.
Please share and discuss these findings with your staff, stakeholders, and partners. And, we would love to hear how you are utilizing the findings from this report. Feel free to share that, as well as any questions about the report, with Nila Rosen and Bethany Berger, Director and Manager of Learning and Research, at data@jewishcamp.org.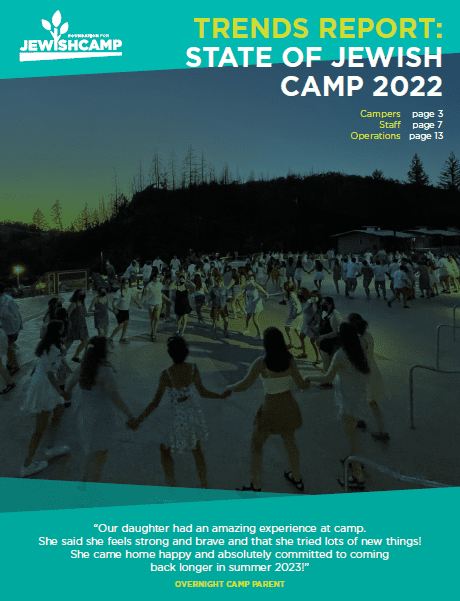 Read the Full 2022 Census Report (PDF)
Read the 2020 ConCensus report
Day Camp Census
Read the Full 2022 Report (PDF)
Read the Full 2021 Report (PDF)
Read the Full 2019 Report (PDF)
Read the Full 2018 Report (PDF)
Read the Full 2017 Report (PDF)